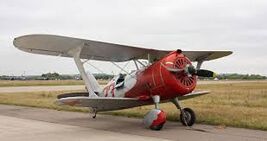 Polikarpov I-15 (TsKB-3) single-engine fighter, produced in 1935.

The launch of the Soviet licensed version of the Wright Cyclone SGR-1820 engine, under the designation M-25, was quite drawn out; therefore, a majority of production I-15s were equipped with M-22 (a licensed version of the British Bristol Jupiter VI) nine-cylinder, air-cooled engines, whose rated power was only 480 hp. This significantly worsened the plane's flight characteristics. Aircraft from the final production series had M-25 engines. In addition, they had one more pair of 7.62 mm synchronous PV-1 machine guns. Most I-15s had fixed-pitch propellers, but some machines received VISh-6 controllable-pitch propellers. In Spain, in the autumn of 1936, the I-15 fighter was used for the first time in the field. The first air battle involving an I-15 took place on November 4. A total of 186 I-15 fighters were received by the Republicans from the USSR. I-15 fighters were also used in the Khalkhyn Gol frontier conflict, in the Winter War of 1939-40, and even during the initial period of World War II (mainly as ground-attack aircraft). However, the plane was considered obsolete even by the Battle of Khalkhyn Gol.
Stable and handy, with good flight characteristics, exceptional manoeuvrability, and excellent takeoff/landing parameters, the I-15 fighter enjoyed a well-deserved success among pilots.
Specifications (I-15R ) 
Edit
Polikarpov I-15bis in flight
General characteristics
General characteristics
Crew: 1
Length: 6.10 m (20 ft)
Wingspan: 9.75 m (32 ft)
Height: 2.20 m (7 ft 3 in)
Wing area: 23.55 m² (236 ft²)
Empty weight: 1,012 kg (2,231 lb)
Loaded weight: 1,415 kg (3,120 lb)
Powerplant: 1 × M-22 radial engine, 353 kW (473 hp)[14]
Armament
4 × 7.62-mm MG PW-1 or 12.7-mm MG BS
1 x 200 kg bombs.
in later versions SchKAS instead PW-1
150 kg bombs or six RS-82 rockets