The Polikarpov I-15 (Russian: И-15) was a Soviet biplane fighter aircraft of the 1930s. Nicknamed Chaika (Russian: И-15Чайка, "Seagull") because of its gulled upper wings, it was operated in large numbers by the Soviet Air Force, and together with the Polikarpov I-16 monoplane, was one of the standard fighters of the Spanish Republicans during the Spanish Civil War, where it was called Chato (snub-nose) in the Republican Air Force, or 
"Curtiss" (because its resemblance to Curtiss F9C Sparrowhawk) in the Nationalist Air Force.
Specifications (I-15 )
Edit
Polikarpov I-15 in flight
General characteristics
Crew: 1
Length: 6.10 m (20 ft)
Wingspan: 9.75 m (32 ft)
Height: 2.20 m (7 ft 3 in)
Wing area: 23.55 m² (236 ft²)
Empty weight: 1,012 kg (2,231 lb)
Loaded weight: 1,415 kg (3,120 lb)
Powerplant: 1 × M-22 radial engine, 353 kW (473 hp)[14]
Performance
Maximum speed: 350 km/h (220 mph)
Range: 500 km (310 mi)
Service ceiling: 7,250 m (23,800 ft)
Rate of climb: 7.6 m/s (1,490 ft/min)
Wing loading: 65 kg/m² (13 lb/ft²)
Power/mass: 0.25 kW/kg (0.15 hp/lb)
Armament
4 × fixed forward-firing 7.62 mm PV-1 machine guns or
2 × fixed forward-firing 12.7 mm BS machine guns
Up to 100 kg (220 lb) of bombs or
6 × RS-82 rockets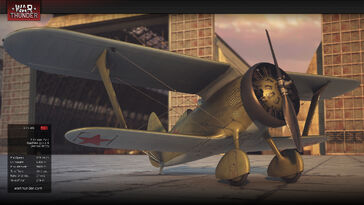 Ad blocker interference detected!
Wikia is a free-to-use site that makes money from advertising. We have a modified experience for viewers using ad blockers

Wikia is not accessible if you've made further modifications. Remove the custom ad blocker rule(s) and the page will load as expected.