IL-2 Sturmovik
Note: Base stats only (no upgrade installed)
Rank
II (2)
Battle Rating
3.0
Type
Attacker
Maximum Speed on height
402 km/h

2500 m
Maximum Altitude
9500 m
Turn Time
27.3 seconds
Rate of Climb
4.7 m/s
Takeoff Run
450 m
Armament
2x 23 mm VYa-23 cannon (300 rds)

2x 7.62 mm ShKAS machine gun (1500 rds)

Burst Mass
4.54 kg/s
The Il-2 was considered by Stalin to be the most valuable aircraft in the Soviet arsenal. Essentially a flying tank, 15 percent of the IL-2's weight was armor, making it very difficult to shoot down, and it was very well armed. The Germans called it the "Schwarzer Tod" (the Black Death) and it proved to be the bane of German armored units. A later model, the IL-10 served in Korea. It was to be the most produced combat plane in history.
Soviet soldiers gave this plane many terms of endearment such as the "flying tank" the "flying infantryman" and "hunchback" and German troops referred to this plane as Schlächter (Slaughterer)and "Der Schwarze Tod" (the "Black Death")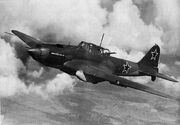 Characteristics
Edit
Role Ground-attack aircraft Manufacturer Ilyushin First flight 2 October 1939 Introduction 1941 Retired 1954 (Yugoslavia and Bulgaria) Primary user Soviet Air Force Produced 1941–1945 Number built 36,183 Variants Ilyushin Il-10 Crew: Two, pilot and rear gunner Length: 11.6 m (38 ft 1 in) Wingspan. 14.6 m (47 ft 11 in) Height: 4.2 m (13 ft 9 in) Wing area: 38.5 m² (414 ft²) Empty weight: 4,360 kg (9,612 lb) Loaded weight: 6,160 kg (13,580 lb) Max. takeoff weight: 6,380 kg (14,065 lb) Powerplant: 1 × Mikulin AM-38F liquid-cooled V-12, 1,285 kW (1,720 hp)
Armaments
Edit
In real life: 2 × fixed forward-firing 23 mm caliber VYa-23 cannons, 150 rounds per gun 2 × fixed forward-firing 7.62 mm ShKAS machine guns, 750 rounds per gun 1 × manually aimed 12.7 mm Berezin UBT machine gun in rear cockpit, 150 rounds Up to 600 kg (1,320 lb) of bombs and/ 8 × RS-82 rockets 4 × RS-132 rockets
Performance
Edit
Maximum speed: 414 km/h (257 mph) Range: 720 km (450 mi) Service ceiling: 5,500 m (18,045 ft) Rate of climb: 10.4 m/s (2,050 ft/min) Wing loading: 160 kg/m² (31.3 lb/ft²) Power/mass: 0.21 kW/kg (0.13 hp/lb)
Black Sea Fleet: Destroy 150 ground units