Me 410

Me 410 A-1/U2, RAF Cosford
Role
Fighter-bomber
Manufacturer
Messerschmitt, Dornier
Designer
Waldemar Voigt
First flight
1942
Introduction
1943
Retired
1945
Primary users
Luftwaffe

Hungarian Air Force

Produced
May 1943-August 1944
Number built
~1,200
Developed from
Me 210
The Messerschmitt Me 410 Hornisse ("Hornet") was a German heavy fighter and Schnellbomber used by the Luftwaffe during World War II. Though essentially a straightforward modification of the Me 210, it was designated the Me 410 to avoid association with its notoriously flawed predecessor.
An Me 410A-1/U4 with a BK 5 autocannon finishes its attack on a USAAF B-17.
Me 410, W.Nr.420430, RAF Museum Cosford (2009)==Specifications (Me 410 A-1)==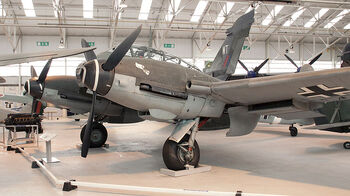 From Wagner, Ray and Nowarra, Heinz. German Combat Planes: A Comprehensive Survey and History of the Development of German Military Aircraft from 1914 to 1945. New York: Doubleday, 1971, page 261.
General characteristics
Crew: 2 (pilot and gunner)
Length: 12.4 m (40 ft 8-3/16 in)
Wingspan: 16.39 m (53 ft 9-1/4 in)
Height: 3.7 m (12 ft 2-5/8 in)
Wing area: 36.20 m² (390 ft²)
Empty weight: 6,150 kg (13,558 lb)
Max. takeoff weight: 10,760 kg (23,721 lb)
Powerplant: 2 × Daimler-Benz DB 603A liquid-cooled V12 engine, 1,750 PS (1,726 hp, 1,287 kW) each
Performance
Maximum speed: 624 km/h (388 mph)
Range: 2,300 km (1,400 mi)combat
Service ceiling: 10,000 m (32,800 ft)
Climb to 6,000 m (19,680 ft): 10.7 min
Armament
Guns:

2 × 7.92 mm (.312 in) MG 17 machine guns with 1,000 rpg, firing forward.
2 × 20 mm MG 151/20 cannons with 350 rpg, firing forward.
2 × 13 mm (.51 in) MG 131 machine guns with 500 rpg, each firing rearward from FDSL 131/1B remote-operated turret, one per side.

Bombs: up to 1,000 kg (2,204 lb) of disposable stores.
Ad blocker interference detected!
Wikia is a free-to-use site that makes money from advertising. We have a modified experience for viewers using ad blockers

Wikia is not accessible if you've made further modifications. Remove the custom ad blocker rule(s) and the page will load as expected.