The Yakolev Yak-7B is a single engine, one man fighter aircraft of
Yak-7B
Note: Base stats only (no upgrade installed)
Rank
II (2)
Battle Rating
3.0
Type
Fighter
Maximum Speed on height
570 km/h
Maximum Altitude
9,900 m
Turn Time
22.5 seconds
Rate of Climb
12.7 m/s
Takeoff Run
387 m
Armament
2x 12.7mm Berezin UB machine gun (400 rds)

1x 20 mm ShVAK cannon (120 rds)

Burst Mass
2.53 kg/s

Soviet Yakovlev Yak-7 was developed from the earlier Yak-1 fighter, initially as a trainer but converted into a fighter. As both a fighter and later reverting to its original training role, the Yak-7 proved to be a capable aircraft and was well liked by air crews. The Yak-7 was simpler, tougher and generally better than the Yak-1.
Operational history
Edit
The Yak-7 proved to be an effective close support fighter although the first two-seaters were considered nose-heavy, consequently, the factory introduced a rear cockpit fuel tank. Pilots complained about the fuel tank's vulnerability since it was unarmored, and it was usually removed in the field. There were constant changes to the design based on combat observations including a definitive single-seat variant, the Yak-7B, which was produced in large numbers.
After the war, some Yak-7V trainers were provided to the Poles and a single Yak-7V was delivered to the Hungarians for familiarization with the Yak-9 fighter.
After trials in April–May 1942, a small batch of 22 Yak-7-37s was authorised, all of which were issued to the 42nd IAP at the North-Western front, where they proved highly successful both in air to air combat and ground attack.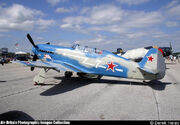 Armament
1 × 20 mm (0.787 in) ShVAK cannon
2 × 7.62 mm (0.300 in) ShKAS machine guns. Later models like the "B", used x2 12.7mm Berezin_UB guns.
Can be modified to carry 50Kg bombs x 2 or RS-82 rockets x 6.